My secret brow secret
[:en]
Well groomed brows are must.
They make your face look so much better.
Especially during summer, when all you need is a tan and a good pair of brows
(and perhaps a lash or 20).
Either way, I have grown to love and cherish my brows.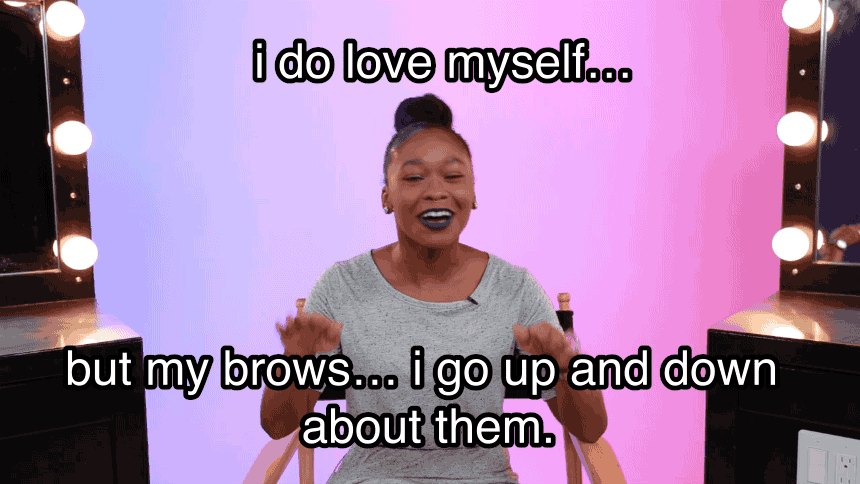 I plucked them, I waxed them, I threaded them and still they stayed and kept coming back and showed me love.
Whatever your method is of keeping them in shape ( I brow blade now), they deserve to shine bright.
Of course you can buy al the Anastasia dipbrow pomades in the world
( which I do own and use btw)
but I am going to tell you my secret to keep my brows tinted and looking on fleek.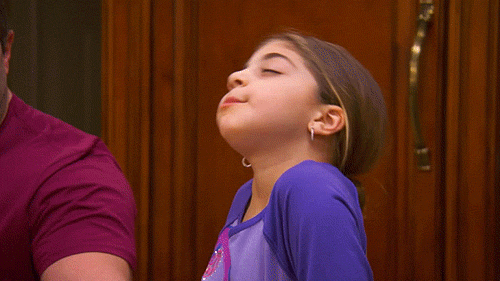 Well thats it actually….
Tinting them.
But I don't  go to a brow wizard or salon to do so, no I am my own master in this.
So here is my secret ….
Bigen
You may or may not heard of it but Bigen,is a natural permanent hair color powder.
It comes in a tiny bottle in powder form and all you do, is add water.
I also use it to cover the grey on my scalp.
It has no ammonia and no hydrogen peroxide and gives the hair so much shine.
But use this for your brows and it acts as a henna.
Tinting the hairs and skin.
I always use dark brow #57.
Sometimes I mix it with medium chestnut brown #47,
(if I feel like doing a Insta-brow) but usually all dark brown for me.
By the way Bigen is also used to tint beards by barbers, just so you know.
Either way,Bigen is perfect for your brows.
When I tint my brows, it lasts about a week on me.
---
How to use.
Make sure your brows are clean and make up free and shape them first.
Mix then a bit of powder ( just a bit, because a little bit gives a lot of volume when mixed) and add water.
Stir until you get a eyeliner liquid formula.
You will see it darken as you mix and stir.
Morphe Elite 2 collodion E29 spoolie
Use a spoolie and brush your hairs up.
I then use a brow brush and start tinting them by coloring as if  was using a brow pencil.
Make sure to get the lines straight and removes excess immediately with a Q-Tip to prevent unwanted staining.
I let it sit for about 25-30 minutes.
When you do this for the first time, you might wanna start with 15 minutes.
It gets pretty dark and longer might be too harsh for you.
After 25-30 minutes,I then rinse them with a bit of face tonic and cotton pads.
It will come off green so don't use your white washing cloth or face sponges.
They will appear a bit greenish but you can see the tint right away.
Don't worry about looking like the hulk just keep rinsing off well and the green will disappear.
Like I said it last about a week on me so I do have to do this every week.
But the result are just fabulous.
Bigen is available at most asian(drug)stores and online and costs about €5.
You can use one "bottle" several times so it is really cheap.
---
What you should know.
I like to tint my brows at night, because I find that during the night, the color develops to it fullest.
So it looks better in the morning then the night before.
&
Never never use black.
It is way too dark.
On anyone!
---
Messed up?
No need to wait a week for the color to fade away.
Squeeze a bit of lemon juice on a cotton pads and wipe your brows clean.
The lemon will make it fade quicker, if you keep wiping off.
Well,the cat is out of the bag.
You know my secret now…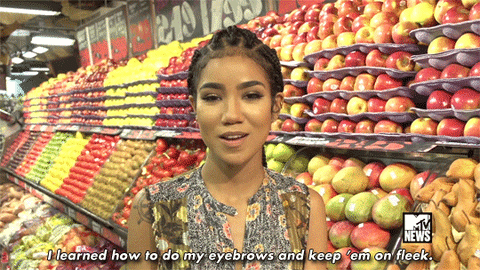 maybe you could me one of yours?!
Get more info about Bigen at
www.bigen-usa.com.
**This is not a sponsored post.
I am in no way associated with Bigen.
Wanna know more about brow blading?
Watch here a video byprettypinks3000, where she shows how she uses a brow razor.
---
[:nl]
Wenkbrauwen maken of breken je gezicht.
True story.
Ze geven je gezicht uitdrukking en maken elke look af.
Vooral tijdens de zomer, want het enige wat je dan nodig hebt is een mooi bruin kleurtje en een paar volle brows.
(oké en misschien een paar wimpers , of heel veel wimpers).
In ieder geval, gedurende de jaren ben ik van me brows gaan houden en ze leren te waarderen.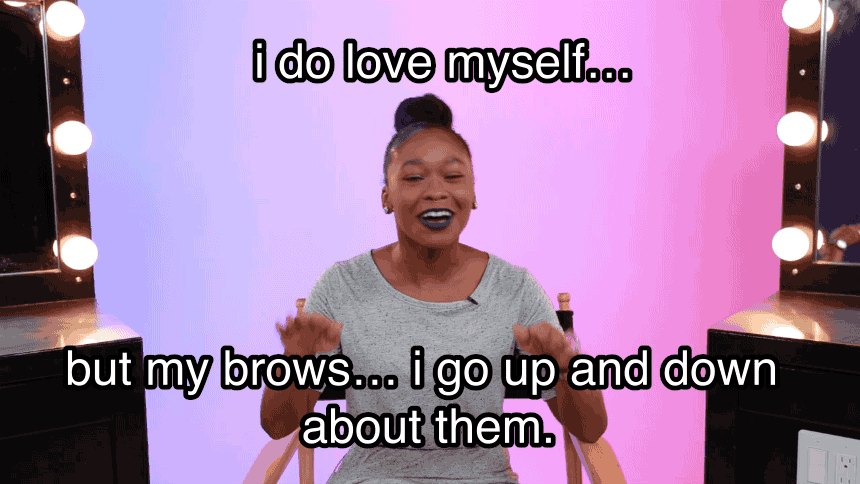 Ik heb ze geëpileerd, , gewaxed,met draad onder handen genomen en ondanks dat alles bleven ze bij me, kwamen telkens terug en lieten me nooit in de steek.
Welke methode jij ook gebruikt om je brows in shape te houden,( Ik brow blade tegenwoordig), they deserve to shine bright.
Nu kan je natuurlijk volop  Anastasia dipbrow pomades inslaan,
( die ik ook veel gebruik)
maar ik ga je vertellen hoe ik mijn brows voorzien van de illusie van kleur,volheid en shape en hoe ik ze tint.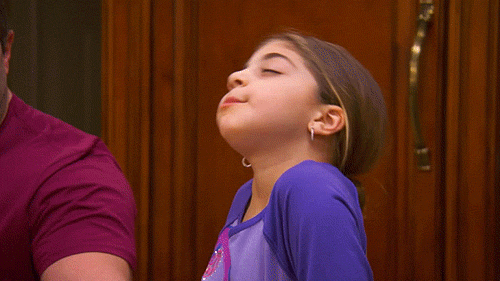 Eigenlijk is dat het ….
Tinting .
Maar ik ga niet naar een saloon brow expert, nee I am my own master in this.
Dus dit is mijn geheime wapen ….
Bigen
Misschien heb je er wel eens van gehoord of heb je het wel eens gezien in de toko.
Bigen,is a natural permanent hair color powder.
Het is een poeder en komt in een heel klein flesje, het enige wat je doet is water toevoegen.
Ik gebruik het ook om me grijze haren te dekken bij scheiding.
Het heeft geen ammonia en geen hydrogen peroxide en het geeft de haar een super glans.
Maar wanneer je dit voor je brows gebruikt, is het een soort henna.
Het tint de haren en huid.
Ik gebruik altijd  dark brow #57.
Soms mix ik het met medium chestnut brown #47,
(als ik voor een Insta-brow ga) maar ga ik voor meestel dark brown.
By the way,Bigen word ook gebruikt voor baarden door kappers, dat je het even weet.
Hoe dan ook,Bigen is perfect voor je brows.
Als ik mijn brows tint, blijft het ongeveer een week voor het vervaagd is en ik het opnieuw moet doen.
---
Hoe te gebruiken.
Begin met schone brows en zorgt dat ze make up free zijn.
Breng ze ook eerst in model.
Mix dan een beetje poeder ( klein beetje, het geeft veel volume wanneer het gemengd wordt ) met water.
Roer tot je een eyeliner liquid formule hebt, niet te dun en niet te dik.
Als je roert zie je het donkerder worden.
Morphe Elite 2 collodion E29 spoolie
Gebruik een spoolie (brow brush) en borstel  brows omhoog.
Ik gebruik dan een angled brow brush zoals de Morphe E29 en begin me brows te tinten, door ze in te kleuren en tekenen alsof ik een brow pencil vast hebt.
Zorg ervoor dat de lijnen recht zijn en verwijder uitgeschoten gelijk met een wattenschijfje.
Anders heb je straks ongewenste "stains" op je huid.
Ik laat het zo'n  25-30 minuten zitten.
Als je dit voor het eerst doet, kun je het misschien beter eerst 15 minuten laten zitten.
It gets pretty dark en langer kan misschien te donker voor je zijn.
Na 25-30 minuten, was ik het af met wat face tonic en wattenschijfjes.
Het kan een beetje groen afgeven dus gebruik geen wit washandje of gezicht sponsjes.
Goed wassen en de tint is gelijk goed zichtbaar.
Zoals ik al zei , blijft het ongeveer een week goed zitten, dus je moet het wel elke week bijhouden.
Maar het is worth the trouble.
Bigen is te verkrijgen bij de meeste toko's en kost ongeveer €5.
Je doet ook best lang met een flesje.
---
Wat je moet weten.
Ik tint mijn brows s'avonds omdat gedurende de nacht de kleur zich ontwikkelt.
Het ziet er in de ochtend dan ook veel beter uit.
&
Gebruik nooit nooit  zwart.
Het is veel te donker.
Bij wie dan ook.
---
Messed up?
Je hoeft heus geen week te wachten als je de mist ingegaan bent.
Pers een beetje citroen op een wattenschijfje en veeg je brows af.
Het citroensap laat de kleur vervagen en als je zachtjes blijft boenen is het zo weg.
Een scrubje helpt ook.
Nou je weet nu mijn secret tot brows on fleek…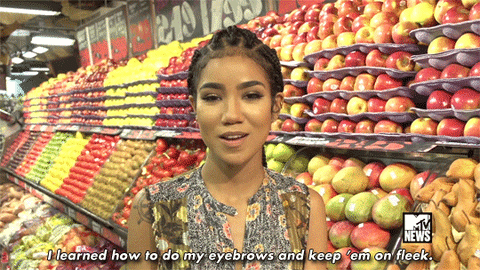 misschien kan je mij a secret of yours vertellen?
Lees meer over bigen op
www.bigen-usa.com.
**Dit is geen  gesponsorede post.
I am in no way associated with Bigen.
Wil je meer weten over brow blading?
Bekijk hier een video van byprettypinks3000, waar ze laat zien hoe je een brow blade gebruikt.
---
[:]